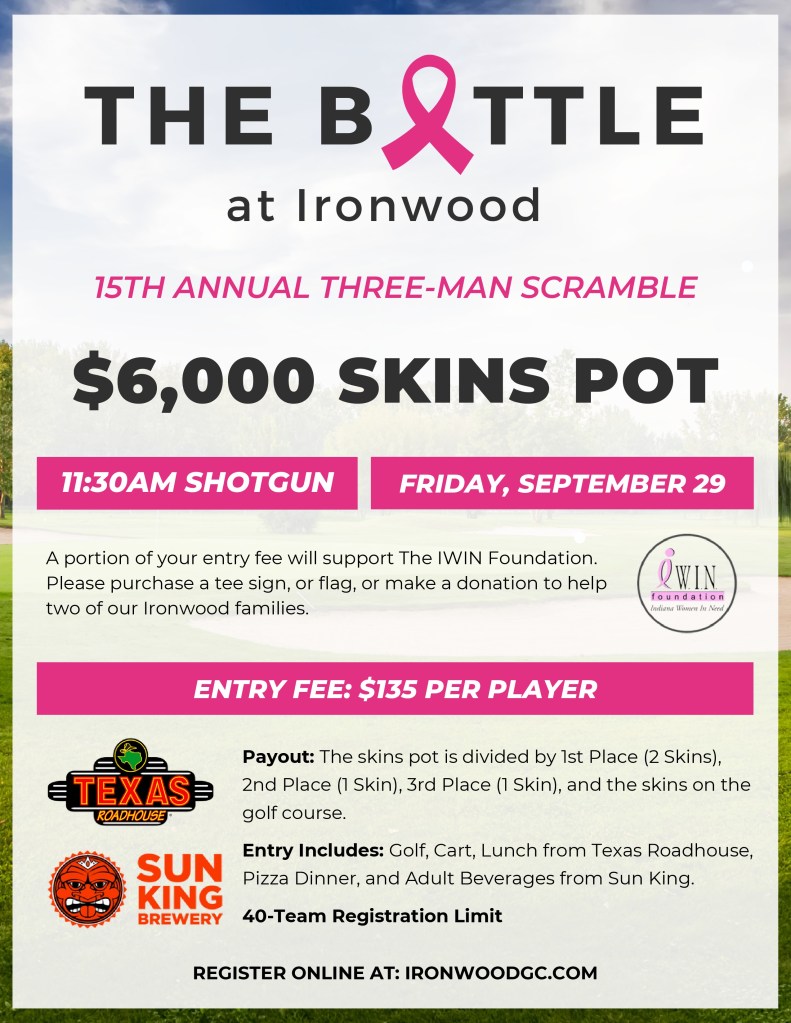 The Battle at Ironwood Three-Man Scramble
To help kick-off Breast Cancer Awareness Month, the 15th Annual Battle at Ironwood is scheduled to take place on Friday, September 29th, 2023.
As always, this event promises to be a fun & challenging day on the course, bringing together golfers who share a common goal – supporting Indiana women battling breast cancer through the services provided by IWIN (Indiana Women in Need).
This year we will also be helping one of our long-time members and current employees, Bill Paul, who lost his daughter, Leslie Hicks to breast cancer this past June. A college fund has been setup for Bills grandkids. Proceeds from event registration, tee-sign and flag sales will go towards the college fund and IWIN.
Tee signs and flag present an excellent opportunity for individuals, families, and businesses to showcase their support for IWIN while gaining visibility among the tournament participants and attendees. You will have the opportunity to keep the golf flag to display at home or in the office.
We only have a few spots remaining for 3-man teams that would like to register for The Battle at Ironwood. Keep in mind, the golf course is played as long and tough as possible and attracts some of the area's top golfers.
Click Here – Purchase a Tee-Sign
Click Here – Purchase a Golf Flag